Breastpump Rentals
Medela Hospital Grade Symphony® Breast Pump Products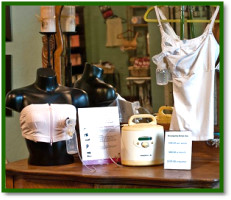 Symphony® Breast pump 2-Phase Expression
Features and Benefits
Symphony Plus is Medela's latest innovation in hospital grade electric double pumps. With breakthrough 2-Phase Expression pumping, Symphony Plus is proven to reduce pumping time through faster let-down and milk flow and remove as much milk as a breastfeeding baby. Symphony Plus implements the results of extensive research on electric breastpumps initiated by Medela and conducted by internationally renowned lactation researcher Peter Hartmann, Ph.D

• 2-Phase Expression Pumping
• Long Term Daily Use
• Double or Single Pump
• All parts that come into contact with breastmilk are BPA/DEHP Free.
Rental pumps do not come with the Symphony Double pumping system and will be an additional cost.
Please plan to acquire the originating breastpump rental at one of our stores.
Breastpump "RENEWALS"

only

may be done online via PayPal.
Weekly Rental Fee $ 28.00
Monthly Rental Fee $ 82.00
Quarterly Rental Fee $ 225.00
2 Credit card numbers are required to rent a breast pump and 2 forms of ID.
One credit card will be used for the rental and one for a $100.00 deposit fee.
Individual signing the rental form will be the individual responsible for payment and return of the pump.
Cash can not be used for a breast pump rental.
You must contact Herself Moms @ (916) 789-1011 or email @ info@herselfmoms.com to advise that renewal was done via PayPal.
Sacramento location:
3385 Lanatt St. Ste D 916-455-6789
Monday: 4:30 pm - 5:30 pm
Tuesday 1:00 pm - 3:00 pm
Wednesdays 1:00 pm - 4:00 pm
Fridays: 12:30 pm - 3:00 pm



PLEASE CHECK OUR

STORE PAGE

FOR ANY CHANGES TO
THE STORE HOURS FOR BOTH LOCATIONS!
~ THANK YOU! ~
Roseville location:
151 N Sunrise Ave. Ste 907 Roseville 916-789-1011
Monday - Thursday: Noon - 4:00 pm
Friday: 10:30 am - 3:30 pm
Symphony Breast Pump Product Accessories
---

 

Symphony® Double Pumping
System 67099 - $50.00

• Includes everything mom needs to double or
single pump with the Symphony hospital grade
breast pump
• Contains PersonalFit 24mm breastshields for
maximum comfort
• Safe for the collection, storage and feeding of
breastmilk
• Sterile - 67099S: For immediate use in hospital
• All parts that come into contact with breastmilk
are BPA/DEHP Free

Symphony® Hospital Grade Vehicle
Lighter Adapter 67173 - $25.00

Symphony® Vehicle Lighter Adapter
---